Alder Health Services Board Members
---
Learn More...
Alder Health Services seeks board members to share the responsibility of leadership and support the mission and vision of the premiere LGBTQ+ serving organization in South Central Pennsylvania.  The mission of Alder Health is to improve the health and well-being of individuals living with HIV/AIDS and members of the LGBTQ community by providing a culturally competent and affirming environment that empowers the people we serve.  Those interested in joining our board of directors should have a passion for making health care services available to the entire spectrum of South Central PA residents, regardless of economic status, race, gender or gender expression, sexual orientation with a particular interest in supporting the health and wellness needs of the regional LGBTQ+ community. Candidates should possess a skill set or area of expertise that would contribute to the organization's ongoing success, such as fundraising, finance, healthcare, media, and community-based services. 
Alder Health's core services include behavioral health, case management, STI and HIV testing, primary medical care, family planning, pharmacy services, and wellness activities.
Board Member Commitment of Time, Talent and Resources: 
The board meets six times per year.  Board meetings are typically one to one-and-a-half hours in duration. Special board development or other meetings of a longer duration may be held on average of twice per year. The board does not meet in July and August.
Board terms are three years.  Board members may serve a maximum of two consecutive terms, after which a minimum one-year hiatus is required before being considered to return to board service. 
Ashleigh Aviles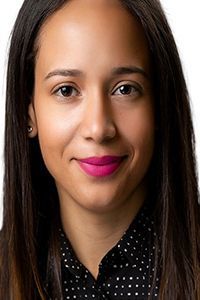 Ashleigh Aviles is a Senior Project Manager and Event Production Manager at Latino Connection, a full-service marketing and communications agency whose mission is to educate and support the Latino community while expanding the reach of the organizations they serve. 
Ashleigh is passionate about health & wellness in vulnerable populations and has supported this mission by traveling to cities all across the United States, reaching more than 80,000 people in underserved multicultural communities, including children, seniors, and families. 
Ashleigh has also accumulated thousands upon thousands of miles visiting communities across Harrisburg and the Commonwealth producing and managing Latino Connection's annual statewide Latino Health Summit and Adelante Health and Wellness Expo. In 2018 and 2019, this event involved 300+ providers and community members across the state, offering breakout sessions, CME credits, workshops, resources, and screenings. The Latino Health Summitt was recognized with the 2019 MarCom Gold Award. In 2019, Ashleigh created an immersive story experience that was featured at the Latino Health Summitt. "Meet the Garcias". features a typical Latino Family and the challenges they face navigating the US healthcare system, also won the Davey 2019 Immersive and Experiential Silver Award. 
Ashleigh graduated from the State University of New York at Oswego with a bachelor's in Public Relations. She was a leader in the areas of programming for admissions and student involvement. She has also received a Project Management Certificate from Temple University and is a recent graduate 2020 Leadership Harrisburg Area Community Leadership Series.