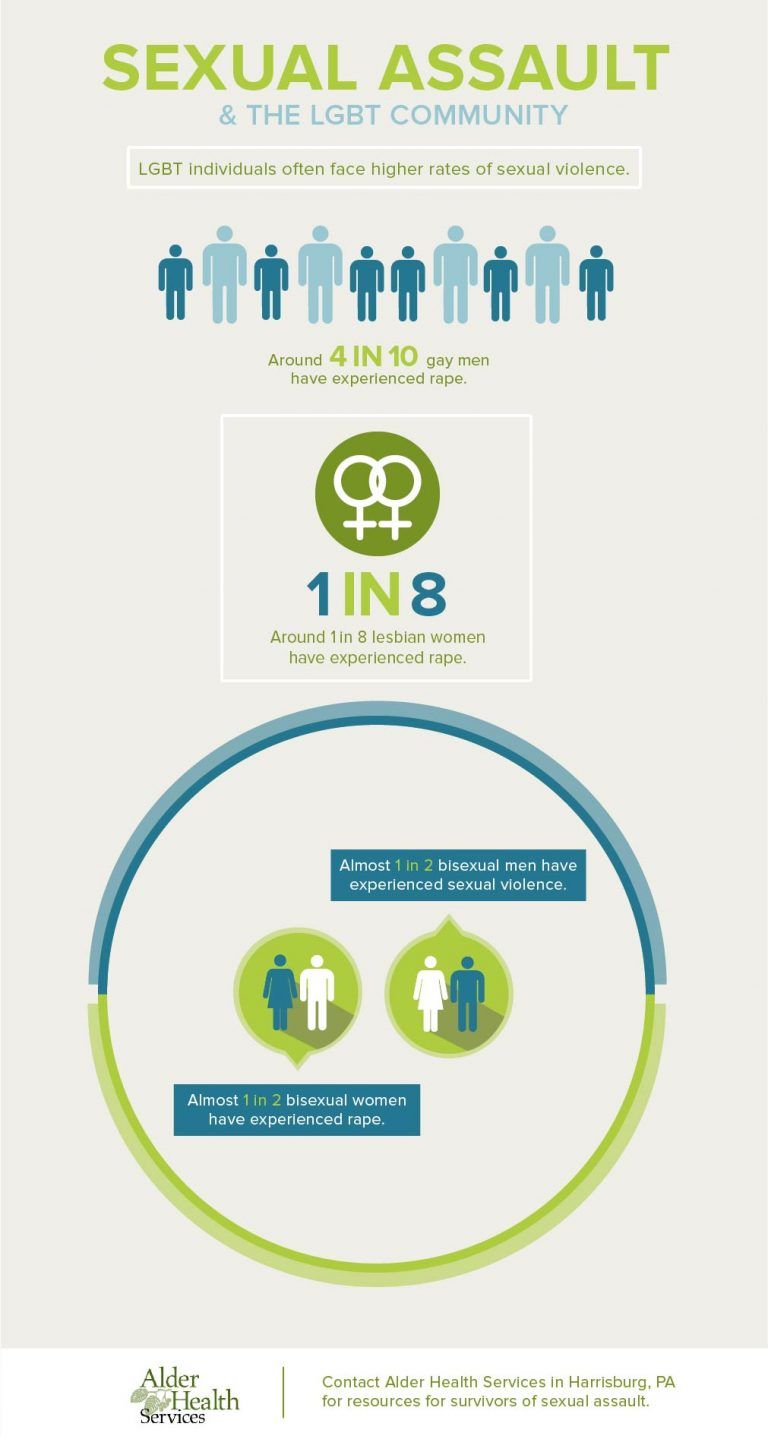 (Trigger warning: This blog post discusses sexual violence. If you think reading about this topic could trigger an unwanted, strong emotional response, feel free to skip to the last two sections, where we list resources survivors can use for recovery.)
Did you know that April is Sexual Assault Awareness Month? During this time, we focus on discussing sexual violence in order to reduce misconceptions and stigma. By expanding our knowledge about the subject, we can better help survivors find the resources they need. This blog post will explain why sexual violence is a problem in all communities and how it affects the LGBT community specifically.
Sexual Assault and the LGBT Community
Many of the statistics and research we have on sexual assault focus on cisgender and heterosexual people. While it is important to discuss the issues these groups face, it's also necessary to be aware that LGBT individuals often face higher rates of sexual violence than non-LGBT folks. Around one in eight lesbian women and four out of ten gay men have experienced rape. Almost half of all bisexual women face rape, and nearly half of bisexual men deal with sexual violence in general. Regardless of orientation, 64 percent of transgender and non-binary individuals have survived sexual assault.
We know these are difficult statistics to read, but we have hope. By accepting and understanding the implications of these facts, we can more effectively support LGBT survivors. Knowledge is power, and this information gives us the strength to fight sexual violence.
How You Can Help
One of the best ways to give survivors support involves a three-word phrase: "I believe you." Survivors of all genders and orientations may encounter victim-blaming and doubt. These stigmas can complicate the acts of reporting or prosecuting an assault, as they incorrectly imply a survivor invited their trauma. If a survivor chooses to disclose to you, trust their account. By doing so, you open the opportunity for them to receive aid and validation.
Other essential affirmations include: "this was not your fault" and "you are not alone."  As advocates, we need to let the survivor dictate the discussion surrounding their trauma. The choice to report, or not report, an assault is incredibly personal. No matter what they decide, emphasize that their choice is legitimate. Empower them — don't make decisions for them.
Resources for Survivors of LGBT Sexual Violence
Whether you want to support a survivor or need assistance yourself, we recommend getting in touch with the following organizations if you have questions:
Rape Abuse Incest National Network (RAINN): This organization handles all forms of sexual violence for all survivors. Call their hotline at 1-800-656-HOPE (4673) or use their online counseling chat.
The Anti-Violence Project: This group specifically serves members of the LGBT community going through violence in all forms, including sexual assault. Their hotline number is 212-714-1141 and offers services in English and Spanish.
FORGE: FORGE works with transgender and gender non-conforming survivors of domestic and sexual violence. Contact them for a referral to a trans-friendly provider near you.
If you prefer to contact a local group, the YWCA of Greater Harrisburg offers a 24-hour crisis hotline for anyone going through violence or abuse. Call them at 1-800-654-1211, or read their list of services.
Contact Alder Health Services
If you or someone you know is navigating the aftermath of sexual assault, you are not alone. Remember that surviving an assault can be nuanced and painful — but it can also be affirmative and empowering. Alder Health Services provides behavioral health services, such as counseling, with a focus on issues pertinent to LGBT people. We help individuals in the Harrisburg area recover from violence and trauma, and we can help you too. If you would like to speak to a professional, please fill out our online form or give us a call at 717.233.7190.