Alder Health Services Board Members
Gail Snyder

Gail Snyder is the Director of Community Reporting for Penn State Health Community Relations Department. In this role, she leads the Community Health Needs Assessment process and a team of public health professionals to manage the Community Benefit Inventory for Social Accountability (CBISA) database, Partners for Healthy Communities of Central PA coalition, and the annual Community Grants program. 

She also serves on the LGBTQ & Allies Affinity Network Resource Group for Penn State Health as well as the Board of Directors for the Lower Dauphin Communities That Care organization. 

Gail holds a Master's Degree in Public Administration from Pennsylvania State University.

She enjoys spending time with her family and friends, coffee dates, camping at the beach, volunteering at community events, walking, swimming, and reading.  
---
Alder Health Services seeks board members to share the responsibility of leadership and support the mission and vision of the premiere LGBTQ+ serving organization in South Central Pennsylvania.  The mission of Alder Health is to improve the health and well-being of individuals living with HIV/AIDS and members of the LGBTQ community by providing a culturally competent and affirming environment that empowers the people we serve.  Those interested in joining our board of directors should have a passion for making health care services available to the entire spectrum of South Central PA residents, regardless of economic status, race, gender or gender expression, sexual orientation with a particular interest in supporting the health and wellness needs of the regional LGBTQ+ community. Candidates should possess a skill set or area of expertise that would contribute to the organization's ongoing success, such as fundraising, finance, healthcare, media, and community-based services. 
Alder Health's core services include behavioral health, case management, STI and HIV testing, primary medical care, family planning, pharmacy services, and wellness activities.
Board Member Commitment of Time, Talent and Resources: 
The board meets six times per year.  Board meetings are typically one to one-and-a-half hours in duration. Special board development or other meetings of a longer duration may be held on average of twice per year. The board does not meet in July and August.
Board terms are three years.  Board members may serve a maximum of two consecutive terms, after which a minimum one-year hiatus is required before being considered to return to board service. 
---
All board members are expected to serve on at least one committee.  Committee meetings are held in the alternate months between board meetings.  These meetings are typically an hour in duration.  Committee Chairs are likely to spend an hour or two preparing for committee meetings.  The Board's Standing Committees are:
Finance
Fundraising 
Nominating & Governance
Public Relations & Marketing
Board members are expected to volunteer, attend or otherwise participate in at least one fundraising or other special events per year.
An annual financial contribution is required of each board member.  There is no pre-set amount and each board member should determine their level of giving based on personal resources. We are most interested in having 100% participation as part of the Annual Board Appeal, regardless of the amount of your gift.
Potential board candidates should email their resume to boardofalderhealth@gmail.com, or contact one of the following individuals for more information.
Russell A. Boggs, Chair, Nominating & Governance Committee; russhbg@comcast.net
Rosemary Browne, President & CEO; rosemaryb@alderhealth.org or call 717- 233-7190  ext. 222
---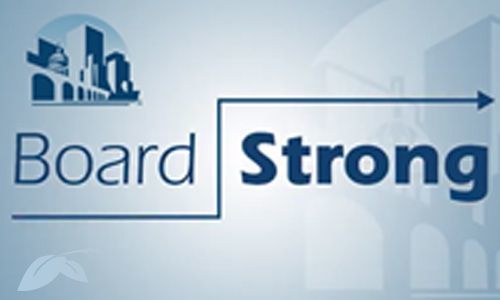 Board Strong is a program of Leadership Harrisburg Area that was made possible through a partnership with The Foundation for Enhancing Communities. Board Strong is a video series inclusive of five components. The components address the roles & responsibilities of non-profit board members; the financial oversight, fiduciary and compliance responsibilities of non-profit board members; non-profit board members' role in fundraising; tips for non-profit board member to effectively tell the organization's story; and tips for engaging high performing board.