Introduction
---
Family Planning includes a number of services designed to contribute to your overall health and wellness.  At Alder Health Services, we realize that there are many reasons why patients may avoid cervical cancer screenings and our goal is to remove those barriers to help you stay healthy. We offer these services in a caring, confidential, and supportive environment.
Our initiatives include:
Contraceptive Education
Methods of contraception (pregnancy prevention) vary in terms of effectiveness, side effects, and benefits. Alder Health Services offers several methods of preventing pregnancy and sexually transmitted illnesses. Our staff will work with you to find the method that best suits your needs and concerns. Methods we offer include hormone therapy ("the pill", injection, etc.), barrier methods (condoms, diaphragm, etc.), long-acting reversible contraception (IUDs), and fertility awareness-based methods.
Pregnancy Testing and Planning
We offer pregnancy testing and can help refer you to affirming providers for follow- up services like options counseling or infertility assistance.
Sexually Transmitted Infection and Testing and Treatment
Our Community Health Initiatives team offers STI/HIV testing on Monday and Wednesday nights from 4:00 pm -8:00 pm. We test for syphilis, gonorrhea, chlamydia, hepatitis C and HIV. All STI/HIV testing night is free and confidential.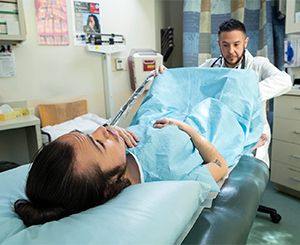 Cancer Screenings
Early detection is a key component in successful cancer treatment. Many individuals in the LGBTQ+ community miss out on important cancer screenings that can provide early detection. 
The following are guidelines. You should discuss your need for screening with a health care provider. 
Cervical cancer screening is recommended if you have a cervix (located at the base of your uterus) and have had sex of any kind. If you are age 21-29, it is recommended you be screened every 3 years. If you are age 30-65, you should get screened for cervical cancer every 3-5 years, depending on the kind of screening and health history.
Breast cancer screening for cisgender females and gender diverse individuals assigned female at birth should begin at age 40. For transgender women, breast cancer screenings should begin at age 50 if you have been on feminizing hormones for at least 5 years. An individual's need for breast or chest cancer screenings may be increased if they have a family history or genetic link for breast/chest cancer.
---
A healthy community needs a healthy you
 so "If you've got it, check it!"