Yolanda Edrington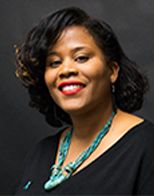 Yolanda Edrington is the COO of the National Sexual Violence Resource Center, located in Harrisburg, PA. She manages the operations of the national center in its mission to provide leadership in preventing and responding to sexual violence through collaborating, sharing, and creating resources and promoting research.
This includes collaborating with a variety of national partners and funders including the Centers for Disease Control and Prevention (CDC), Office on Violence Against
Women (OVW) and Office for Victims of Crime (OVC). Yolanda has over 15 years of experience in navigating different helping systems to afford clients treatment from a strengths-based perspective. Professionally and personally she works for social change. Yolanda has spent many years volunteering for community- based programs in central PA advocating for HIV/AIDS awareness and for Black women and girls to live in a world where socio-economic inequity does not exist.