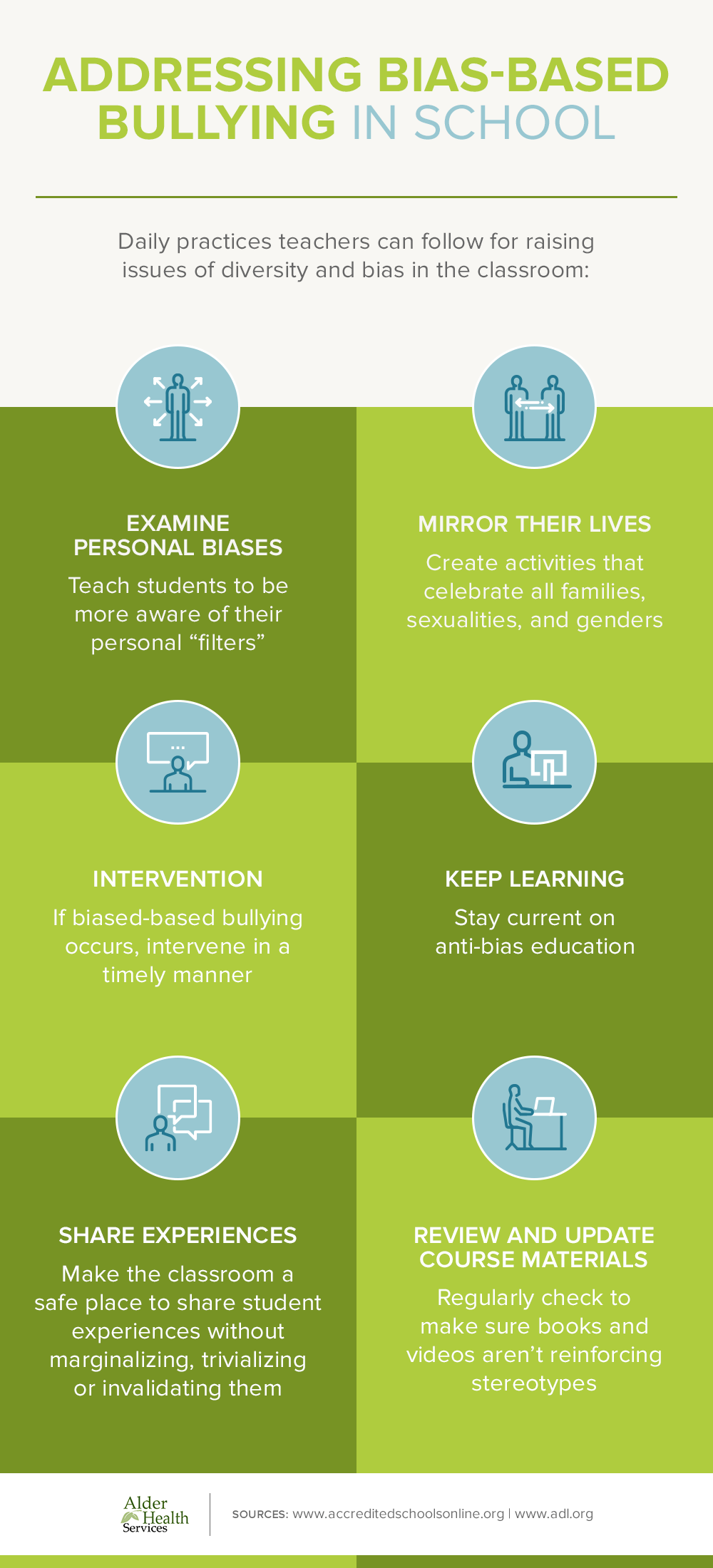 It's important for your students to feel safe. Learn how you can prevent bullying in schools caused by prejudice.
What Is Biased-Based Bullying in Classrooms?
Bias-based bullying is bullying that happens as a result of prejudice. LGBT students often face bias-based bullying from classmates who have prejudiced beliefs about gender and sexuality.
According to the HRC LGBTQ Youth Report, 70 percent of LGBT children deal with bullying because of their sexual orientation. Also, 50 percent of transgender girls experience physical threats from their peers. These challenges increase for LGBT students of color. Fortunately, people like you can take measures to promote a safe classroom for children of all genders and sexualities.
How Does Bias-Based LGBT Bullying Impact Students?
Children who deal with bias-based bullying often feel unsupported and singled out. They have a higher risk of missing school, dropping out and committing suicide. When they receive the support they need, they can learn in an environment where they feel safe. Working toward an inclusive classroom reduces these risks and increases your LGBT students' well-being.
What Steps Can I Take Toward Preventing Bias-Based Bullying?
Teachers can use the following strategies to prevent LGBT bullying and make students feel safer:
Be Proactive: Practice behaviors that promote respect for people of all sexualities, genders and backgrounds. Establish a diversity policy in your class syllabus and remind your students that everyone deserves fair treatment.
Point out Prejudiced Language: Many students say biased-based words and phrases because they don't understand the implications. When you hear biased language in your school, question the student and teach them why their language is hurtful.
Create Inclusive Lesson Plans: Integrate lessons about the LGBT community and other diverse groups in your teaching. You can include content about LGBT historical figures, gender-neutral language and LGBT-friendly health education.
Hold Bullies Accountable: Establish that you do not accept bias-based bullying by treating it like any other unacceptable behavior. Make it clear that students will face the consequences when they mistreat their peers.
Support Bullied Students: Check in with students after they face bias-based bullying. Let them know they deserve respect and that the harassment was not their fault.
Where Can I Find More Resources for Creating a Safe Classroom?
LGBT advocacy organizations have plenty of resources for teachers who want to make their classrooms safe for students. Some examples include:
GLSEN's Resources for Educators
HRC Foundation's Welcoming Schools
ADL's Resource Knowledge Base
We're Here for You and Your Students
At Alder Health, we offer primary care and behavioral health services to people of all genders and sexualities. We provide a safe space where you can receive care without prejudice or judgment. If you or your students need LGBT-friendly care in the Harrisburg, PA, area, we can help. Our team can also direct you to community resources, where you can find solidarity in the LGBT community. Visit our contact details page to discover our locations and send us a message.