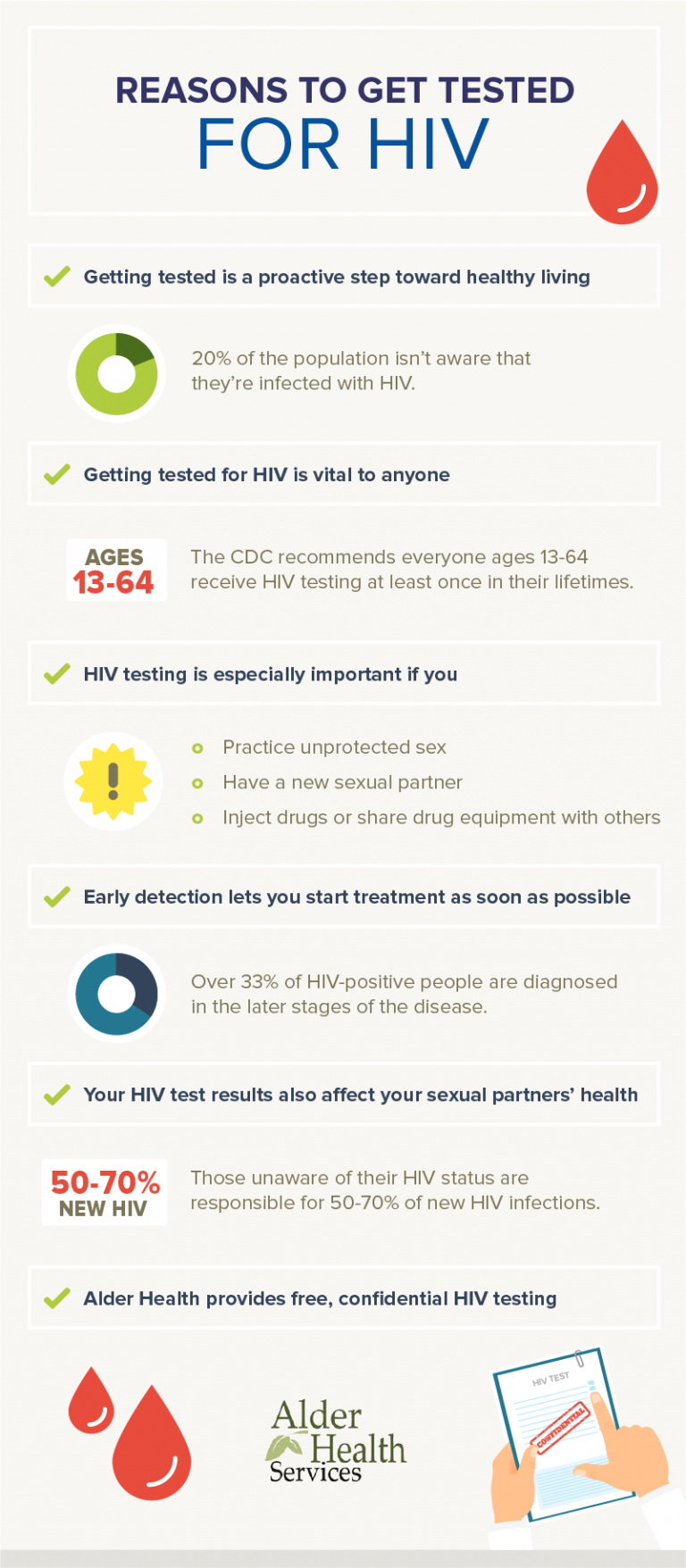 Getting tested for HIV is vital to people of all gender and sexualities' health and well-being. When you receive testing, you take proactive steps toward healthy living. Discover the benefits of HIV testing and where you can find HIV testing options near you.
When to Get Tested for HIV
The CDC recommends that everyone between age 13 and 64 receive HIV testing at least once in their lifetimes. We also encourage you to get tested if you:
Practice unprotected sex
Inject drugs or share drug equipment with others
Have a new sexual partner
Why Get Tested for HIV?
We have plenty of good reasons for why you should get tested. The benefits of HIV testing include:
Free and Confidential: Alder Health provides free HIV testing.
Early Treatment: Early detection lets you start treatment as soon as possible, so you can stay healthy. Many patients have high life expectancies when they take their HIV medicine as prescribed.
Safe Partners: Your HIV test results also affect your sexual partners' health. Learning about safe sex practices is an important part of sexual health.
What to Expect During HIV Testing
At the beginning of your testing appointment, you will be asked questions about your sexual health and risk factors. Who do you have sex with and how do you have sex. Clinic staff work with patients of all experiences, including patients like you. You may ask them any questions about the test that will ease your worries.
Depending on your risk factors a blood sample or a rapid test will be given.
Where to Find HIV Testing Services
You can find HIV testing services throughout the United States. The CDC has a database of free testing places for HIV, STDs and hepatitis online. Enter your location in the search box to find providers near you. Alder Health's HIV testing services help patients in the Harrisburg, PA, area.
HIV Testing and More at Alder Health
Alder Health conducts free and confidential HIV testing every Wednesday night from 4 to 8 p.m. in Harrisburg and Lancaster, PA. Our walk-in clinic does not require you to make an appointment for services. We also have testing events that suit different schedules. HIV-positive patients may also take advantage of our case management and behavioral health services. You can reach out to us to learn more about our services or schedule an appointment.
Related Resources:
Benefits of HIV Testing
Youth and HIV Prevention
Common Myths About HIV/AIDS