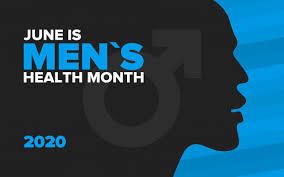 June is Men's Health Month
The purpose of Men's Health Month is to heighten the awareness of preventable health problems and encourage early detection and treatment of disease among men, who often go without many of the important preventative services listed below.
Annual Examinations
Having a primary care physician who you schedule regular physicals on your health is important even if you feel healthy. These visits will help determine if you are in need of any immunizations, screenings for medical issues, assessing the risk of future medical problems, and discuss healthy lifestyle recommendations. Having a regular primary care provider (PCP) whom you trust and feel comfortable speaking with is important when discussing difficult topics.
Blood Pressure Screening
Patients can have increased blood pressure and have no signs or symptoms of this. Having high blood pressure can lead to a multitude of complications in the body and early detection can prevent this damage from happening.
Body Mass Index (BMI) Screening
An increase in BMI can also lead to multiple complications- regular follow-ups can help discuss healthy lifestyle changes and ways to obtain a healthy BMI to help prevent these complications.
Blood Test Screening for Diabetes and Cholesterol
Men 35 and older should consider screening for diabetes and high cholesterol.
Earlier or additional screening may be indicated by your current symptoms, medications, other medical issues or family history.
Screening for Substance Use
Substance use affects a broad range of people. Your doctor can offer ways to decrease or stop use of substances and refer you to proper help if needed.
Screening for Sexual Issues and Sexually Transmitted Infections (STIs)
Sexual health is important and any concerns can be discussed with your provider. Screening for sexually transmitted infections (STIs) can be performed to assess for risk that may include:
New or multiple sex partners
A sex partner with concurrent partners
A sex partner with a sexually transmitted infection (STI)
Inconsistent condom use among persons who are not in mutually monogamous relationships
Previous STI
Exchanging sex for money or drugs
If you are sexually active and at risk, it may important to consider STI screening as often as every 3-6 months or at least yearly. If you are sexually active, please discuss your current risk for HIV with your provider and consider if PrEP (pre-exposure prophylaxis) may be right for you.
Screening for Depression or Anxiety
Anyone and everyone can suffer from depression and anxiety. Having a trusted provider to help you deal with these stressful times during your life can offer an array of solutions from therapy to medication treatment.
Depression is common and defined as:
A period of at least two weeks when a person experienced a depressed mood or loss of interest or pleasure in daily activities and had a majority of specified symptoms, such as problems with sleep, eating, energy, concentration, or self-worth.
Anxiety is common and can result in Panic Attacks or Generalized Anxiety disorder (GAD), which is defined as:
Excessive anxiety or worry, most days for at least 6 months, about a number of things such as personal health, work, social interactions, and everyday routine life circumstances. The fear and anxiety can cause significant problems in areas of their life, such as social interactions, school, and work.
Healthy Diet and Exercise
Discuss an individualized diet and exercise plan with your provider to meet your individual health goals. It is recommended for all men to get 30 minutes of exercise a day. 
Immunizations
Flu vaccine every year
HPV vaccine for men 9-45 years
Hepatitis A and B vaccines for men who have sex with men or have other risk factors
Tetanus vaccine every 10 years
Pneumonia vaccine for men 65 years and older and earlier with risk factors
Shingles vaccine for men over 50 years
Cancer Screening
The United States Preventive Services Task Force (USPSTF) recommends against screening for testicular cancer in adolescent or adult men. The USPSTF recommends screening for colorectal cancer starting at age 50 years and continuing until age 75 years.
The USPSTF recommends annual screening for lung cancer with low-dose computed tomography (LDCT) in adults aged 55 to 80 years who have a 30 pack-year smoking history and currently smoke or have quit within the past 15 years.
Men over 45 years should discuss prostate cancer screening options, risks, and benefits with their provider.
Men who have sex with men should consider discussing anal cancer screening options, risks, and benefits with their provider.