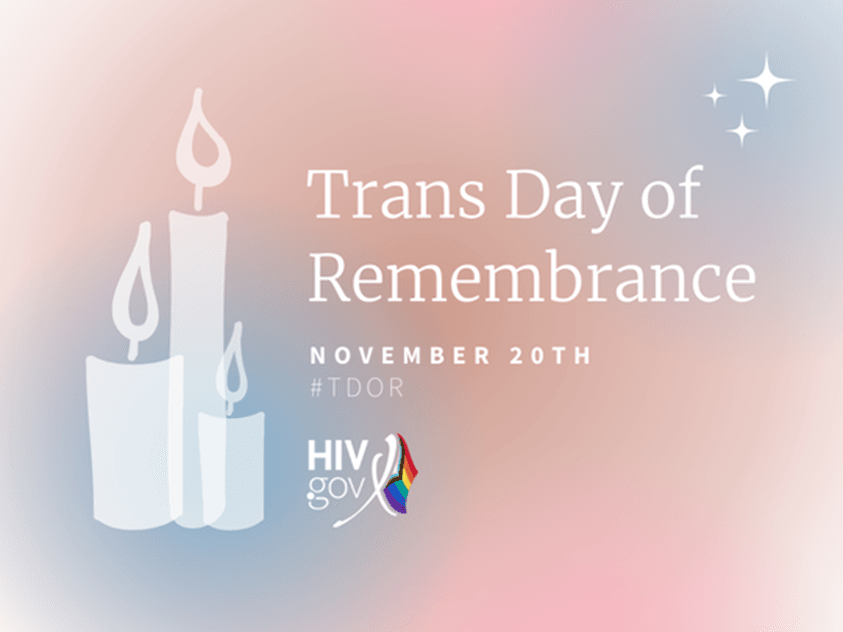 Alder Health Stands with the Transgender Community
By Rosemary Browne, CEO/President, Alder Health Service
Alder Health stands with the region's Transgender Community as the region and the nation gather November 20 to observe Transgender Day of Remembrance (TDOR).
The day of remembrance honors the memory of transgender people whose lives were lost in acts of anti-transgender violence. Started in 1999 by transgender advocate Gwendolyn Ann Smith as a vigil to honor the memory of Rita Hester, a transgender woman who was killed in 1998. The vigil commemorated all the transgender people lost to violence since Rita Hester's death, and began an important tradition that has become an annual observance worldwide.
The constant threat of death and violence against transgender individuals continues to escalate.
At least 32 transgender and gender-nonconforming people have been killed in the US in 2022, according to the Human Rights Campaign. The advocacy organization identifies at least 302 violent deaths since tracking such fatalities beginning in 2013, the same year the FBI began tracking hate crimes against transgender people.
Worldwide, 320 trans and gender-diverse people were killed between Oct 1 2022 and September 30 2023, according to The Trans Murder Monitoring, a report that tracks murders reported in the media each year.
Alder Health wholeheartedly continues its support of the region's transgender community because:
Trans community experiences unemployment at twice the rate of the general population.
The unemployment rate for trans people of color up to four times the national unemployment rate.
Transgender people are also four times more likely to live in poverty.
90% of trans people report experiencing harassment, mistreatment, or discrimination on the job.
The American Medical Association has stated that transgender people face an "epidemic of violence." Transgender people face barriers in accessing healthcare, including anti-trans bias and laws allowing providers to deny care to trans patients.
All of these realities result in transgender people, especially trans women and trans people of color, experiencing extremely high levels of minority stress that results in poor mental and physical health. According to the U.S. Trans Survey, 40% of transgender respondents reported attempting suicide, compared to 4.6% of the population as a whole.
As we approach 2024, Alder Health renews its commitment to the region's Transgender Community.